About
The mandate of the Saskatoon Food Council is to improve Saskatoon's food economy, enrich our food culture, and reduce hunger in Saskatoon. Formed in 2014 as a result of a community food assessment, the council works in partnership with other community food agencies.
We promote Saskatchewan foods and food production as a healthy community-minded choice and work to expand capacity in urban agriculture. We also work to increase collaboration among food producers and community food agencies, particularly in terms of increasing the amount of food grown in our city.
The formation of the Saskatoon Food Council was made possible by generous funding from the Mosaic Company. Each year since 2014, Mosaic has provided operational funding to support our work.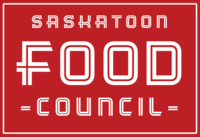 Contact Us
#425 221 Cumberland Ave
Saskatoon, SK S7N 1M3
Phone: (306) 966-2136